Sam Curran five-for sees England past Afghanistan in low-scorer
Liam Livingstone helps seal stuttering chase as England miss significant NRR boost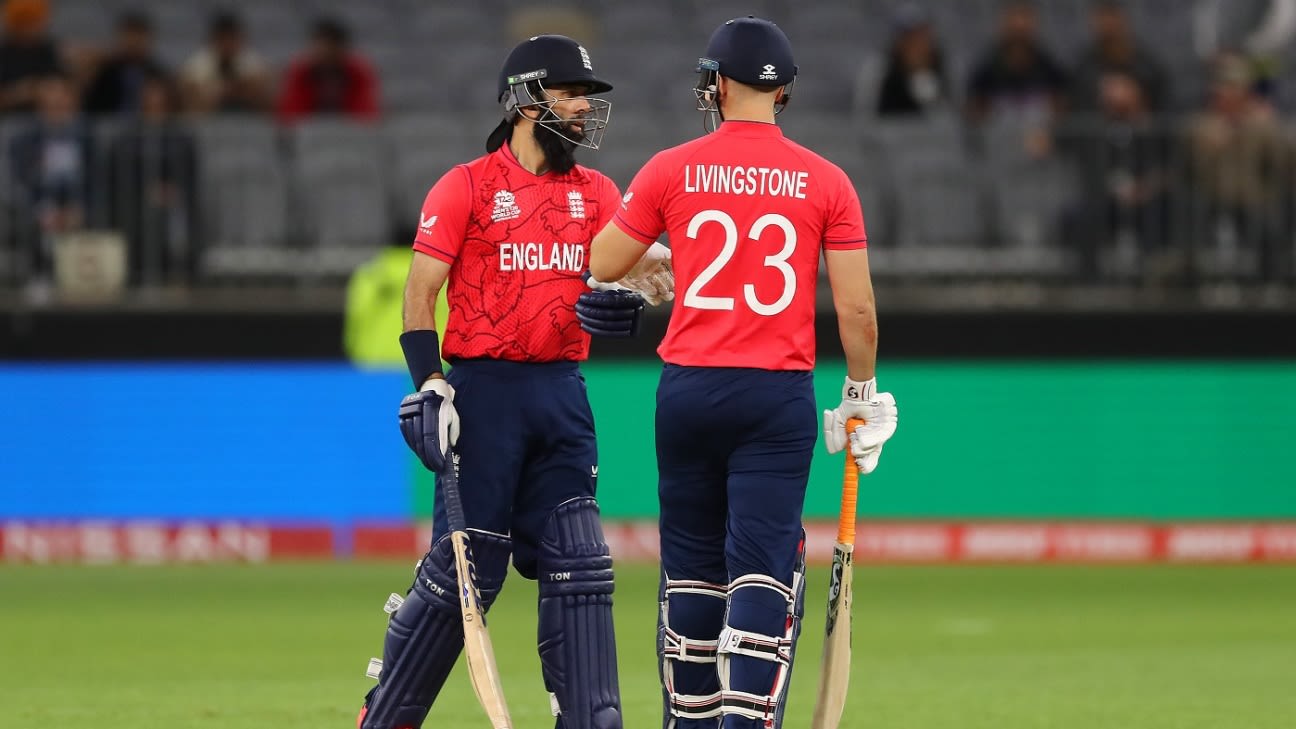 England 113 for 5 (Livingstone 29*) beat Afghanistan 112 (Curran 5-10) by five wickets
England's World Cup campaign is up and running thanks to a five-wicket victory over Afghanistan in their opening match in Group 1.
It was very much a performance of two halves for one of the tournament favourites. They were outstanding in the field, vindicating Jos Buttler's decision to bowl first by dismissing Afghanistan for 112 with a stellar hand from Sam Curran of 5 for 10, becoming the first Englishman to take a T20I five-for.
But a stuttering chase took the gloss off what could have been a complete performance. They were 65 for 3 at one stage in the 11th over, only managing to clear the fence once and in turn missing the chance to rubber-stamp this win with a significant net run rate boost.
Curran stole the headlines with his career-best figures and was even on a hat-trick at one point, removing Azmatullah Omarzai and Rashid Khan off the last two balls of the 18th over. Though he missed out on a hat-trick, he did claim three in four when Usman Ghani slapped one to Liam Livingstone at deep point in the 20th over.
If that was a rudimentary take for Livingstone, his first was on the other end of the spectrum: charging out from the cover boundary to take a stunning, diving catch at backward point after Hazratullah Zazai tried to flay Ben Stokes to the fence. Stokes went on to take one more wicket, benefitting again from similar brilliance in the outfield, this time from Adil Rashid.
Mark Wood also claimed two with a four-over spell with an average pace of 149kph, while Chris Woakes (1 for 24) relied on nous to leave Mohammad Nabi's side well short of a par score.
While achieving a target of 113 was always expected, the manner in which England struggled, particularly against Rashid, Mujeeb Ur Rahman and Nabi, spoke of a few kinks still to be ironed out. The spin trio conceded just one boundary between them and emerged with a wicket each. Ultimately, batting depth saw Buttler's side through with Livingstone batting till the end to finish unbeaten on 29 off 21 – the only English batter to score double figures at better than a run a ball – with Moeen Ali (8 off 10) for company.
Wood cranks it up, again
Wood's first ball nipped away at 146kph/91mph, taking Rahmanullah Gurbaz's outside edge. The second – 154kph/96mph – welcomed Ibrahim Zadran to the crease. It's safe to say Wood was not messing around. Much has been made about pace at this World Cup, and even more on his point of difference in this English attack. That brought its own pressure and Wood could not have lived up to the hype and expectation any better.
Mark Wood congratulates Livingstone on a brilliant catch
•
ICC via Getty Images
The two wickets for 23 are what matters from a statistical point of view, but the other numbers, particularly on the speed gun, are jaw-dropping. He looks as fresh and consistent as he has ever been – a credit to the man himself and the medical team who have worked tirelessly to help him achieve a level the likes of which England have never seen.
Fielding focus
One of the aspects of the Stokes conversation that punctuated discussions on selection matters heading into this first match was his fielding. Whatever role he would occupy with bat or ball, his fielding would play a huge role in Australia: his speed across those vast expanses of green, that cannon arm, and, of course, those hands. As it happens, he was excellent with the ball (2 for 19), negligible with the bat (2 off 4) and largely a spectator in the field. The last part was because those around him delivered the stunning grabs this time around. Livingstone and Adil Rashid pulled off exceptional running, diving catches – both carbon copies of Glenn Phillips' earlier worldie against Australia. Buttler's one-handed Superman catch of Nabi was the icing on the cake, and even a late drop from Alex Hales sprawling at point could be marked down as saving a boundary. England's undoubted strength is their batting, but their fielding is a close second.
Afghanistan botch upset
The collapse of 5 for 3 off the final 12 deliveries of their innings, the drops off Alex Hales on 4 and 17 (he was eventually dismissed for 19) and the way England did not need to take risks against their spinners, with Rashid producing a boundary-less four overs. You can see why Nabi said he wanted to defend at the toss, and why that has been Afghanistan's modus operandi for the longest time. But you can also see why their fans might rue what might have been. An opportunity to catch England cold was spurned thanks largely to an underwhelming, borderline-naive approach with the bat. Given how the last hour of the game played out, an extra 20 runs would have gone a long way.