Mickey Arthur calls for ring-fenced Blast knockouts amid clash with England series
Derbyshire coach says it's "unacceptable" for the Blast to be given "so much disrespect"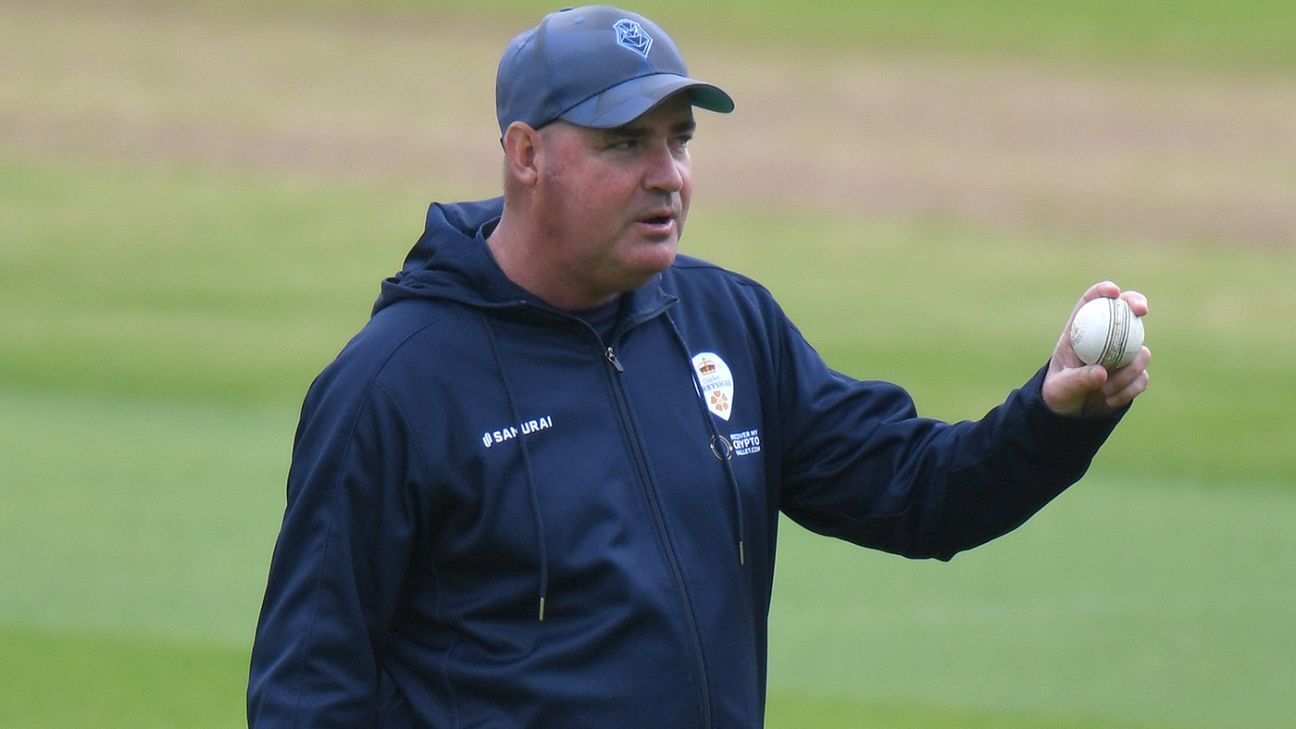 Mickey Arthur has condemned the failure to ring fence the Vitality Blast knockout stages and give them their own place in the cricket calendar as a decision that shows "disrespect" to the county game.
Arthur, one of the most respected international coaches of the past 20 years, has guided Derbyshire to the Blast quarter-finals in his first season coaching at county level.
He is mystified by the fact that the knockout stages of England's long-running professional T20 tournament are drained by England call-ups at a time when its appeal should be at its highest and feels it shows scant regard for the overwhelming majority of professional cricketers.
Birmingham's high-fliers feel the G-force as Hampshire hit the brakes

Hogan earns Hundred wildcard pick in final season

Thompson applies nerveless finish as Yorkshire prevail

Steven Croft provides wisdom of ages as star-stripped Lancashire push for ninth Finals Day

Hopps: One of the great county rivalries, stripped of all that's good
Arthur said: "Surrey played Yorkshire this week with only a few international cricketers because there is an England series on at the same time. For me, that is unacceptable."
The absence of England players – they are engaged in a T20I series against India this week – might be viewed as a potential opportunity for Derbyshire who are one of the more unsung counties without any players currently in the England senior squads.
If they beat Somerset on Saturday night, their future opponents could conceivably have to face further withdrawals because of England's primary claims in a series against India that by then has moved on to a 50-over series, with the third ODI due to be played the day after Finals Day.
But Arthur has no interest in main chancing. His concern is the message that not giving the Blast a dominant week in England's cricket calendar gives to the county professionals.
"100%, the Blast knockout stages should be ring-fenced," he said. "For our players, it is the showpiece of the summer. Take the Hundred out of the argument for a moment. For the Blast to be given so much disrespect is not great for the counties. I am quite strong on that view."
Chris Jordan, Surrey's captain, missed their quarter-final defeat on Wednesday
•
Associated Press
England's willingness to release players has been described as "fluid" with "fairness" to both counties involved in a tie regarded as the main criteria.
That meant when Ollie Pope played for Surrey in Wednesday's quarter-final, only 24 hours after the rescheduled fifth Test against India, but Joe Root and Jonny Bairstow opted for rest ahead of the ODI series, that England's white-ball set-up agreed to release Yorkshire's captain, David Willey.
Willey's call-up was so late that he realised he was short of county kit and travelled from the Ageas Bowl to the Kia Oval in a shirt bearing the name of his Yorkshire team-mate Harry Brook.
Eight players missed Yorkshire's dramatic victory over Surrey at the Kia Oval: Dawid Malan, Root, Brook and Bairstow for Yorkshire; Sam Curran, Chris Jordan, Jason Roy and Reece Topley for Surrey.
Unless there is a late release of players, Jos Buttler, Liam Livingstone, Matt Parkinson and Richard Gleeson are expected to be missing for Lancashire's quarter-final against Essex Eagles on Friday, though Phil Salt is expected to be made available.
Late decisions could also be a feature of Finals Day on July 16 because it must compete with international demands. England face India at Lord's on Thursday and again at Old Trafford on Sunday and a new white-ball team of Buttler, the captain, and coach Matthew Mott are likely to be resistant to all but the most token flexibility in releasing players.
It would be understandable if a former international coach of such repute – Arthur has variously taken charge of South Africa, Australia, Pakistan and Sri Lanka – responded with horror towards the lack of preparation time on the county circuit. Arthur's natural response is to make light of the rigours of a non-stop schedule although he is not blind to the difficulties it creates.
"I've really enjoyed it because I could be on a cricket ground every day of my life, but it challenges everyone without a doubt," he said. "I've often sat with the coaching staff and when we've been talking and planning, particularly with the strength and conditioning guys a lot, is 'how are you feeling?' And he says 'I'm slightly tired'. Imagine then how the players are feeling? It's been a very, very taxing programme.
"I don't know what's going to happen if we get some rain in Taunton on Saturday because we start a four-day game in Durham on Monday morning. So that kind of highlights the fixture schedule. But, you know, we've just had to get on with it. And the one thing we've been very strong on within our dressing room is that we can never use that as excuse."