Ajaz Patel peers through sliding door to see Michael Bracewell
Bracewell has five wickets from two Tests but has conceded an eye-watering 5.67 runs per over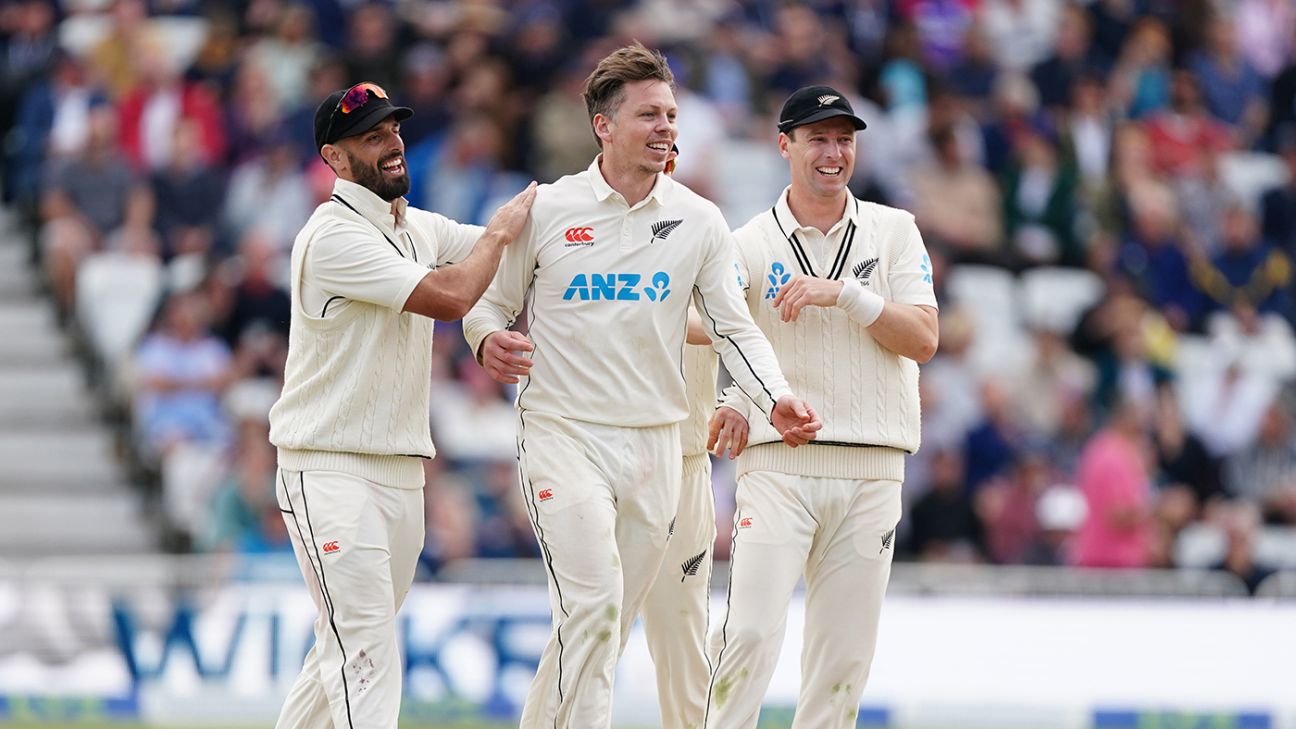 It was an over which turned the series. England were 136 for 4 in pursuit of 279 at Lord's when Kane Williamson threw the ball to Ajaz Patel for his second over, hoping to break a partnership worth 67 between Joe Root and Ben Stokes.
Stokes had slog-swept Patel's second ball of the match for six into the Grandstand and Williamson was clearly reluctant to bring him back on. But with Colin de Grandhomme off the field with an injury which would end his series, he had little choice: even with Stokes on strike, Patel was back in the firing line.
Stokes lined Patel up, monstering him over midwicket twice more in the first four balls of the over. He was nearly bowled by the fifth, missing another slog-sweep to a ball which bounced just past the top of his off stump and past Tom Blundell's gloves for four byes, but with figures of 2-0-22-0, Patel did not return to bowl again.
This was the first clear sign of England's ultra-positive approach with the bat. They had scored at 2.83 an over in their run chase up until the start of that over and went at 4.64 thereafter, liberated by Stokes' decision to take down his match-up with the ball spinning into his arc.
"He saw that match-up with the left-arm spinner… it was a really important over," Root said. "With Colin going off injured it meant that they were going to have to keep bringing their seamers back, keep them tired." Kyle Jamieson, who picked up much of the slack, suffered a stress reaction in the next Test which ruled him out of the series.
Williamson's faith in Patel evaporated. He had taken 10 wickets in an innings and 14 in the match in his most recent Test, and 4 for 59 in New Zealand's win at Edgbaston last summer, but was deemed surplus to requirements on two good batting pitches at Trent Bridge and Headingley.
His replacement, Michael Bracewell, has been eviscerated: he has taken five wickets in his two Tests but has conceded an eye-watering 5.67 runs per over. He has the highest economy rate by a New Zealand bowler in a series anywhere, by any bowler in a series in England and the third-highest by any bowler in any series (min. 40 overs bowled).
He has been a strangely negative selection: a 31-year-old allrounder, picked primarily for his bowling despite a career record of 27 wickets at 47.51 in first-class cricket before this tour, having only switched to offspin in the 2019-20 season. According to ESPNcricinfo's ball-by-ball data, England have attacked 17.7% of the balls he has bowled, compared to an overall figure of 13.2% across the series: Bracewell's team-mates call him 'the Beast' but he has been beasted on this tour.
Michael Bracewell turns on Beast mode to script Malahide miracle

New Zealand's Test superstars have started to fade

Kane Williamson at a crossroads as form slump mirrors New Zealand's decline

Ben Foakes withdrawn from Headingley Test after positive Covid-19 test
On Sunday, he removed Zak Crawley with his seventh ball, slapped straight to extra cover, but by the end of the day he had resorted to firing the ball down the leg side from around the wicket – and even then, Root swept him for consecutive fours. There were chances, with both Root and Ollie Pope edging past Daryl Mitchell at slip, but he conceded one boundary per over.
"We're backing him all the way," Tom Blundell said in his defence, "but if you look at it, you've got two quality guys out there who play spin really well. If you look at the opportunities we created at times with Beast, if one of those goes to hand, it could be a different story."
Williamson was crying out for a bowler who could restrict England's scoring but couldn't find one. New Zealand packed their batting by picking Bracewell at No. 8 and effectively only fielded three frontline bowlers, two of whom have played all three games in this series and arrived straight from the IPL. His runs – 96 in four innings – have been handy, but nothing more.
And so Bracewell had to plug away, finishing the day with 1 for 70 from his 11 overs on a pitch that had started to turn sharply. Jack Leach, his opposite number, bowled more than 70 overs, took the new ball in the second innings and took five wickets in each innings; Williamson posted a sweeper either side of square leg and watched Root nail the ball into the gap between them.
Patel, meanwhile, looked on from the dressing room. Perhaps he would have suffered the same fate as Bracewell, but he was hardly given a chance. New Zealand will not play their next Test until the far side of the T20 World Cup by which time he will be a 34-year-old with only a dozen caps to his name.
That his career record compares favourably to Leach's is a reflection of the fact that New Zealand only pick him when conditions suit, but even on a dry, hard Leeds surface, he has had to carry the drinks. He must wonder how this series might have panned out if his penultimate ball of the tour had kissed the top of Stokes' off stump, rather than bouncing over it.