Western Australia start Sheffield Shield defence at home; expanded WNCL begins late September
Men's domestic season returns to full schedule after Covid disruption for three years in a row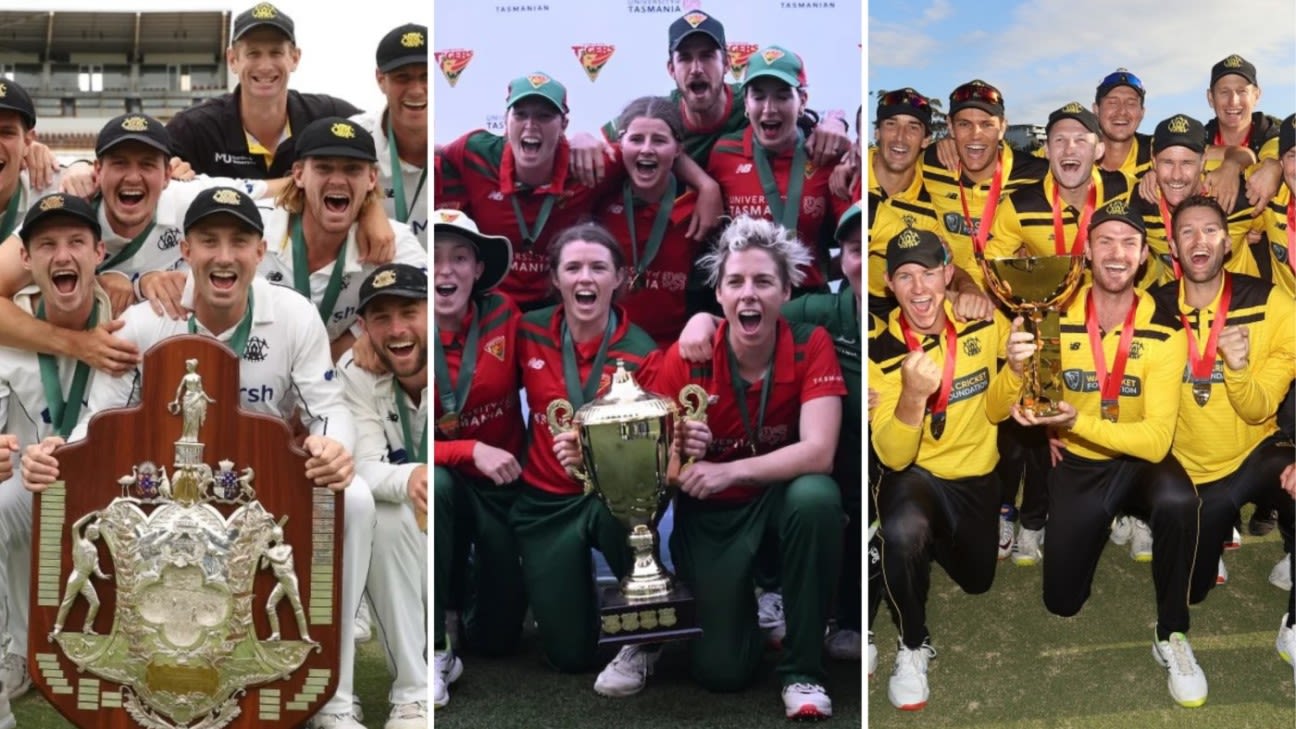 Western Australia will begin their Sheffield Shield title defence against New South Wales at the WACA, while the details of the expanded WNCL have been locked in with the announcement of the domestic fixtures for the Australian summer.
There will be a full men's domestic programme for the first time since 2018-19 following two disrupted seasons caused by Covid-19 and the curtailed 2019-20 Shield when the pandemic began.
Australia's busy home international season to start in late August

WNCL expanded as part of new 12-month Australian cricket deal

WNCL set to be boosted by availability of Australian stars
The season will start in late September with the WNCL – which now sees teams play each other twice before the final – and the Marsh Cup. The Sheffield Shield then gets underway on October 3 with six rounds, before it breaks for the BBL with a resumption in early February, and the five-day final from March 23.
Australia's multi-format men's players may struggle to make any Sheffield Shield appearances during the season, given there is the T20 World Cup in October and November, and then the tour of India in February and March. But those that aren't in the T20I side should get a at least four matches ahead of the Test summer against West Indies and South Africa which starts on November 30.
There will be 12 WNCL matches in the first part of the tournament ahead of the WBBL which will be in its October-November window, as with no international commitments, it is expected that Australia's players will be available.
The tournament, which is not entirely on a home-and-away basis, then resumes shortly before Christmas and concludes with the final on February 25, by which time those in the Australia side will be at the T20 World Cup in South Africa.
The majority of the Marsh Cup – the men's 50-over competition – will be played before the BBL, with the remaining rounds leading into the final on March 8.
There will also be four underage tournaments throughout the season, with the women's under-19 competition – to be staged in Perth in early December – particularly important given the inaugural Under-19 Women's T20 World Cup that will take place in January.
The BBL and WBBL fixtures will be announced in the coming weeks.
Australian domestic fixtures 2022-23
Women's National Cricket League
Sep 23: New South Wales vs Queensland, North Sydney Oval (D/N)
Sep 23: South Australia vs Victoria, Karen Rolton Oval
Sep 23: Western Australia vs ACT, WACA Ground (D/N)
Sep 25: New South Wales vs Queensland, North Sydney Oval
Sep 25: South Australia vs Victoria, Karen Rolton Oval
Sep 25: Western Australia vs ACT, WACA Ground
Sep 30: New South Wales vs Western Australia, North Sydney Oval (D/N)
Oct 1: Queensland vs ACT, TBC
Oct 2: New South Wales vs Western Australia, North Sydney Oval
Oct 3: Queensland vs ACT, TBC
Oct 4: Victoria vs Tasmania, CitiPower Centre
Oct 6: Victoria vs Tasmania, CitiPower Centre
Dec 18: ACT vs South Australia, TBC
Dec 18: Tasmania vs New South Wales, TBC
Dec 20: ACT vs South Australia, TBC
Dec 20: Tasmania vs New South Wales, TBC
Dec 21: Western Australia vs Queensland, WACA Ground (D/N)
Dec 23: Western Australia vs Queensland, WACA Ground (D/N)
Jan 4: Queensland vs Tasmania, Allan Border Field
Jan 4: Western Australia vs South Australia, WACA Ground (D/N)
Jan 5: Victoria vs New South Wales, CitiPower Centre
Jan 6: Queensland vs Tasmania, Allan Border Field
Jan 6: Western Australia vs South Australia, WACA Ground (D/N)
Jan 7: Victoria vs New South Wales, CitiPower Centre
Jan 17: Queensland vs Victoria, Ian Healy Oval
Jan 19: Queensland vs Victoria, Ian Healy Oval
Jan 19: ACT vs Tasmania, TBC
Jan 19: South Australia vs New South Wales, Karen Rolton Oval
Jan 21: ACT vs Tasmania, TBC
Jan 21: South Australia vs New South Wales, Karen Rolton Oval
Feb 6: Tasmania vs South Australia, Blundstone Arena
Feb 8: Victoria vs Western Australia, CitiPower Centre
Feb 8: Tasmania vs South Australia, Blundstone Arena
Feb 10: New South Wales vs ACT, Wade Park (Orange)
Feb 10: Victoria vs Western Australia, CitiPower Centre
Feb 12: New South Wales vs ACT, Wade Park (Orange)
Feb 14: Tasmania vs Western Australia, Blundstone Arena

Feb 16: Tasmania vs Western Australia, Blundstone Arena
Feb 17: ACT vs Victoria, EPC Solar Park
Feb 17: South Australia vs Queensland, Karen Rolton Oval
Feb 19: ACT vs Victoria, EPC Solar Park
Feb 19: South Australia vs Queensland, Karen Rolton Oval

Final
Feb 25: TBC vs TBC, TBC

Sheffield Shield

Round 1
Oct 3 – 6: Western Australia vs New South Wales, WACA Ground
Oct 6 – 9: Queensland vs Tasmania, Allan Border Field
Oct 6 – 9: South Australia vs Victoria, Karen Rolton Oval
Round 2
Oct 16 – 19: South Australia vs Tasmania, Adelaide Oval
Oct 17 – 20: Victoria vs Western Australia, CitiPower Centre
Oct 18 – 21: New South Wales vs Queensland, Drummoyne Oval
Round 3
Oct 29 – Nov 1: Tasmania vs Victoria, Blundstone Arena
Oct 31 – Nov 3: New South Wales vs South Australia, North Dalton Oval (Wollongong)
Oct 31 – Nov 3: Western Australia vs Queensland, WACA Ground
Round 4

Nov 10 – 13: Queensland vs Victoria, Allan Border Field
Nov 11 – 14: Western Australia vs South Australia, WACA Ground
Nov 12 – 15: Tasmania vs New South Wales, Blundstone Arena
Round 5
Nov 20 – 23: South Australia vs Queensland, Adelaide Oval
Nov 22 – 25: New South Wales vs Western Australia, SCG
Nov 24 – 27: Victoria vs Tasmania, MCG
Round 6
Dec 1 – 4: Queensland vs Western Australia, Gabba
Dec 1 – 4: Victoria vs New South Wales, CitiPower Centre
Dec 1 – 4: Tasmania vs South Australia, Blundstone Arena
Round 7
Feb 9 – 12: Victoria vs Queensland, MCG
Feb 10 – 13: South Australia vs Western Australia, Adelaide Oval
Feb 11 – 14: New South Wales vs Tasmania, SCG
Round 8
Feb 20 – 23: Victoria vs South Australia, CitiPower Centre
Feb 21 – 24: Queensland vs New South Wales, Gabba
Feb 21 – 24: Tasmania vs Western Australia, Blunstone Arena

Round 9
Mar 2 – 5: Queensland v South Australia, Gabba
Mar 2 – 5: New South Wales v Victoria, SCG
Mar 2 – 5: Western Australia v Tasmania, WACA Ground

Round 10
Mar 14 – 17: Tasmania v Queensland, Blundstone Arena
Mar 14 – 17: South Australia v New South Wales, Karen Rolton Oval
Mar 14 – 17: Western Australia v Victoria, WACA Ground
Final
March 23 – 27: TBC v TBC, TBC
Marsh One-Day Cup
Sep 23: Victoria vs New South Wales, CitiPower Centre
Sep 25: Victoria vs Western Australia, CitiPower Centre
Sep 26: Queensland vs South Australia, Allan Border Field (D/N)
Sep 28: South Australia vs Tasmania, Allan Border Field (D/N)
Sep 30: Queensland vs Tasmania, Allan Border Field (D/N)
Oct 1: Western Australia vs New South Wales, WACA Ground
Oct 21: South Australia vs Tasmania, Adelaide Oval
Oct 22: Victoria vs Western Australia, CitiPower Centre
Oct 26: Tasmania vs Victoria, UTAS Stadium
Nov 5: New South Wales vs South Australia, North Sydney Oval
Nov 5: Western Australia vs Queensland, WACA Ground
Nov 15: Queensland vs Victoria, Allan Border Field
Nov 16: Western Australia vs South Australia, WACA Ground
Nov 17: Tasmania vs New South Wales, Blundstone Arena
Nov 27: New South Wales vs Queensland, North Sydney Oval (D/N)
Feb 14: Victoria vs Queensland, MCG (D/N)
Feb 15: South Australia vs Western Australia, Adelaide Oval (D/N)
Feb 16: New South Wales vs Tasmania, North Sydney Oval (D/N)
Feb 26: Queensland vs New South Wales, Gabba (D/N)
Feb 26: South Australia vs Victoria, TBC
Feb 26: Tasmania vs Western Australia, Blundstone Arena
Final
Mar 8: TBC vs TBC, TBC
Underage National Championships
Dec 5 – 12: Under-19 Female National Championships, Perth
Dec 15 – 22: Under-19 Male National Championships, Adelaide
Jan 5 – 12: Under-16 Female National Championships, Canberra
Jan 16 – 23: Under-17 Male National Championships, Tasmania