'They have won us enough matches' – Babar Azam puts faith in Pakistan's middle order
Pakistan captain says Shan Masood good to go, but Fakhar Zaman not quite there yet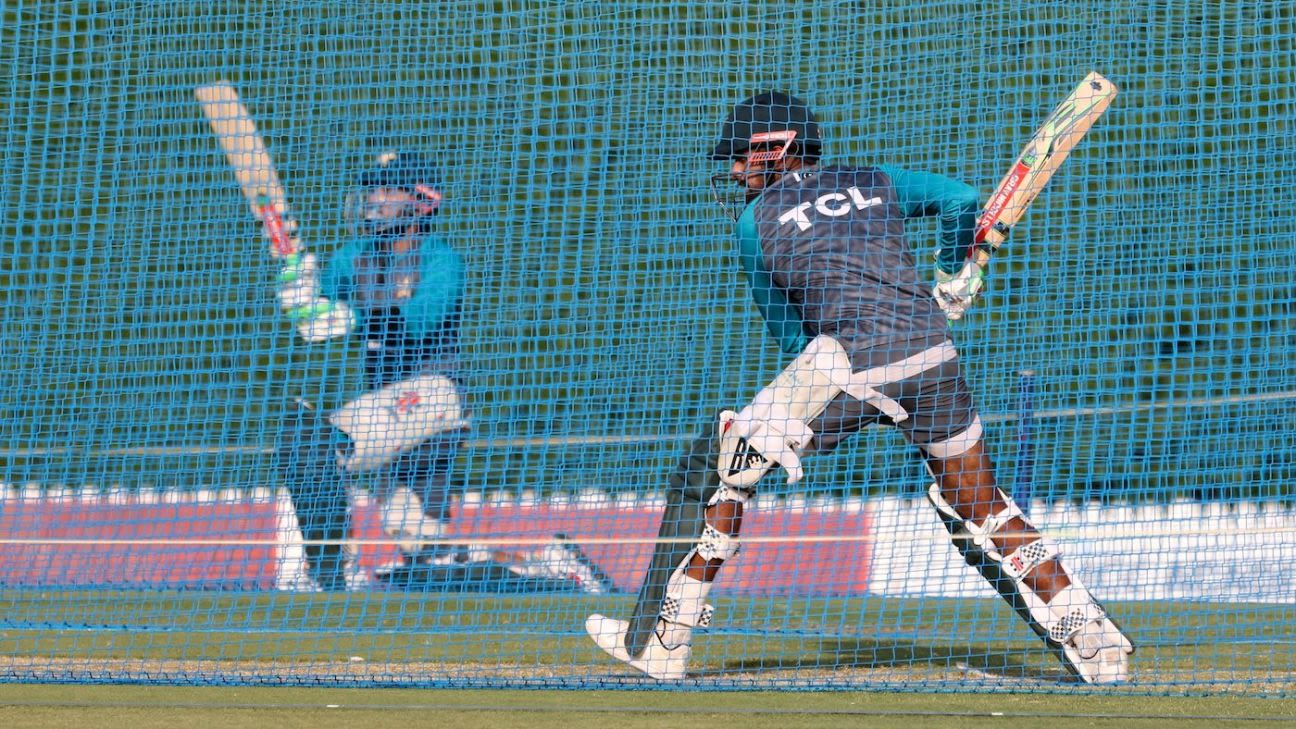 The Melbourne weather has had to tie itself in knots to usurp the chicken-and-egg situation between Pakistan's middle-order issues and their opener's slow strike rate to emerge as the biggest talking point in the lead-up to their first match of the T20 World Cup. That situation has got to the point where a journalist told Pakistan's captain Babar Azam at the pre-match press conference that former players are saying that all India have to do to win on Sunday is get Babar and Mohammad Rizwan early.
Babar smiled in response, and gave his full backing to the middle order. "Look, sir, this we will know on the day [of the match]," Babar said. "You never know. This is T20. On the day anyone can surprise you. It is a short format, any player can win you the match. We have belief in the middle order. They have won us enough matches, they have performed in enough difficult situations. You should be prepared for everything."
Shadab Khan is Pakistan's Mr T20, and it suits him fine

Babar: Middle-order batters' form in NZ 'good signs' for T20 WC

Weather improves on match eve, but Rohit says India 'ready' for shortened game too
Perhaps equally the question should be asked of Babar and Rizwan if their conservative starts leave the middle order with no option but to hit out and risk losing their wickets early. That question wasn't asked but, given their attack, Pakistan can afford to score par totals if they do bat first.
"The way our fast bowlers are performing, Shaheen [Shah Afridi] has come back, [Mohammad] Wasim, and especially the way Haris [Rauf] has improved his bowling and grown his game, our confidence in our bowling unit is quite high," Babar said. "So, on the day, we will try to execute our plans."
Babar confirmed that Shan Masood has recovered after he took a blow to the side of his head two days before the match. Fakhar Zaman, though, has not fully recovered from a knee issue and will have to wait for a game or two before becoming available for selection.
"Shan Masood has recovered," Babar said. "All the test reports look good. He is ready for tomorrow. We haven't yet seen the pitch. We know an XI in the back of the mind, but we will confirm it when we see the wicket. Fakhar hasn't recovered fully. It will take him one or two matches."
What gives Pakistan a bit of buffer with their middle order is their recent use of Shadab Khan and Mohammad Nawaz as low-cost power-hitters against suitable match-ups. "The way Shadab and Nawaz have played their part higher up the order, that is a key factor for us," Babar said. "It gives us a freer mindset. And here the grounds are bigger, you won't see as many big shots here."